Stokesbury DNA Project Briefing No. 8 (March 2017)
NOTE ON HYPERLINKS: This document contains hyperlinks. All links open in a new tab. To come back to this DNA Briefing, look for the link that says "Click here to return to DNA Briefing #8," or close the tab for the link you have opened, or choose the tab labeled "Stokesbury DNA Briefing #8."
First, I want to thank you if you have participated in the DNA project, or contributed to the general fund. Many of you have made multiple contributions. Your generosity has enabled us to provide funds for family members worldwide who could not have participated without your help. Kudos go out to:
Nick Stuchbery, Canada
Liz Stookesberry Myers, CA in memory of Earl Stookesberry
Linda Stokesbury Brennan, MI & LA in honor of Elwood Lamar Stokesbury
Nancy Offield, MO, in honor of William Harvey Stokesberry
Dale L. Lawrence, Sr., OH
Jack Babcock, IA in honor of Ralph, Marguerite & Arvid Stokesbary
Cintra E. Wilcox, TX
Tonia Bolinger Brock, TN
Aaron Palmer, Knoxville, TN
Teri Stokesberry Williams, CA
John A. Stotesbury, Finland
John T. Stokesbury, CN
Geoffrey James Stutchbury, Australia
Jack Stokesberry, IA
Robin E. Stutchbury, Australia
Barbara Stotesbury Dabroski, FL
Now, a little housekeeping: As the number of people in our project has grown, it has become increasingly more challenging to keep track of who's who. Someone suggested we identify participants by kit number, instead of participant number. However, using a participant number is my way of keeping track of the order in which people joined the project, so I have decided to keep that for the time being, and further clarify by adding the kit number.
Remember that the Stokesbury project public website contains all the briefings, and a complete list of participants, as well as charts and actual numerical results. I've been working on the website to make it more user friendly, and plan to continue with that task. You can spend some time exploring what is currently available there, and I can answer any questions you have about it: DNA Project Website.
As usual, I welcome corrections to this briefing or the project website. I am NOT offended by having errors pointed out — I just want to get it right. For questions or discussion, contact me at 318-228-8457, or e-mail Linda@stokesbury.org.
______________
Our project now has four family groups! Well, sort of …
With these latest results we have created one new family group. That brings us to a total of four groups in our DNA project, which are as follows:
Family 1: Stokesbury/Stookesberry/Stutchbury; descendents mostly U.S, one branch Australia, originally from England
Family 2: Stotesbury; U.S., going back to England, some through Ireland
Family 3: Stutchbury/Stuchbery/Stuchbree; Australia, originally from England
Family 4: Stuchbery; originally from England
There are variants of the surname within each group. However, don't fall into the trap of thinking because your surname is spelled a certain way, you automatically fall into a certain family group. There are enough exceptions and variations to make your head spin. I have placed participants into families based on DNA test results, augmented by research and documentation. The DNA results prove who is related to whom and predict the time period of connection. Research and documentation provide the exact connection by identifying the most recent common ancestor (MRCA), and the date of connection.
All families have been traced back to England, although in some individual cases, the exact connecting generation has yet to be found. Research, using traditional genealogy, is slowly revealing more detail.
While the members of families 3 and 4 are of Stuchbury descent, none of the members of Family 3 are of direct male descent; and it's possible that the one member of Family 4 is not a direct male descendant either. If that turns out to be true, it may be that we really only have two family groups identified to date. Further testing will be needed to provide the answers. If this seems "clear as mud" to you, read on and it will be explained.
______________
Family 3: New pedigrees
Participant #17 (Kit #B1218): Nick STUCHBERY, Winnipeg, Saskatchewan, Canada, and Participant #12 (Kit #134568): Leslie STUCHBREE, Castlemaine, Australia.
In the last briefing, we reported that Nick Stuchbery matched with previously unmatched Leslie Stuchbree. We designated this Family 3. This is the Hillesden line from Buckinghamshire, England. (Please note: an earlier briefing wrongly identified Leslie as Lester.)
Upgrade reveals they are ABSOLUTELY RELATED:
Leslie and Nick both upgraded their Y-DNA tests to 111 markers. The results show they are an exact match at that level, which is the highest "exact match" in our project. However, they are not related to any other family within our project. We know, through research, that they could not have shared a common ancestor for at least six generations back. Adjusting the probabilities by this number, they had a whopping 78% probability of sharing their first common ancestor at seven generations ago. At eight generations, their probability dropped to 11%. The seventh generation prediction turned out to be correct. It is consistent with their MRCA being William Stuchbury, b. 1740, Hillesdon, Buckinghamshire, England — son of Mary Stuchbury and William (last name unknown); this is supported by documentation.

AND NOW, the rest of the story:
Dan Cerchi, an exacting researcher in Australia (not related to any of our families) provided much assistance to Robin Stutchbury in sorting all of this out. Dan tells us that the Y-DNA linking the two individuals in Family 3, derives from a non-paternity event that occurred when Mary, the eldest daughter of Thomas Stuchbury (buried 1760, Hillesden, Buckinghamshire, England) & Hannah, gave birth to a son out of wedlock: "Willm. Stouchbury ye putative Son of Wm. — [last name left blank] & Mary Stouchbury, was Baptized Novb 1st 1740" at Hillesden. Unless the unknown father of William was also a Stuchbury, neither Nick nor Leslie inherited any variant of Stuchbury Y-DNA (the the Y-DNA is only passed down from father to son). Regardless, they both are still unequivocally descendants of Thomas & Hannah Stuchbury. It's just that their male-inherited Y-DNA may not come from the Stuchbury line.

This certainly sounds confusing. To simplify, they ARE both Stuchbury descendants, just not in an unbroken, direct father-to-son Stuchbury descent. Their branch veers off for one generation through a female — Mary Stuchbury, daughter of Thomas & Hannah Stuchbury. What their Y-DNA testing reveals is that they are both descendants of Mary Stuchbury and a father named William, whose last name was not recorded. It is from this unknown father that their Y-DNA was inherited.
It must be noted, however, that we may eventually find a direct male descendant of the earliest Stuchbury male in this Hillesden line. That participant could change whether the Hillesden line, as defined by the Y-DNA, is related to any of the other families in the study. That could also hold true for Family 4.
Nick's ancestors (Participant #17 — Kit #B1218):
Nick has multiple matches with the Lovelace surname. At the 67-marker level, he has two matches with the Lovelace surname and two with the Linnell surname. This provides a possible clue in the search for the last name of the man who fathered William in 1740. The closest match predicts an MRCA at the 9th or 10th generation back — precisely where we are lacking the last name of William.
I have uploaded a chart with the ancestors of Nick, Leslie and Robin. It shows their direct Stuchbery/bury ancestors back to Hillesden, Buckinghamshire, England, and how they are related. Here is the link: hillesden chart.
Leslie's ancestors (Participant #12 — Kit #134568):
At the 37-marker level, Leslie has five of his six matches with the surname Loveless, which, again, may be a significant lead in the search for the last name of the man who fathered William in 1740 — this is especially significant given the fact that Nick also has matches with the Loveless name.
For Leslie's direct Stuchbery/bury ancestors back to Hillesden, Buckinghamshire, England, see the chart mentioned above: hillesden chart.

Participant #20 (Kit #194831): Robin Ephraim STUTCHBURY, Kilsyth, Victoria, Australia
Robin has no matches with anyone in our project. (He also has no matches beyond the 12-marker level with any other surnames, which is not very helpful.) Since his father was not a Stutchbury, he cannot match with any of our families using the Y-DNA test. He may find matches with the Stutchburys using the results from his Family Finder test. Traditional genealogy has provided a paper trail that includes John Stuchbree (1773-1847). From there, it goes back to William Stuchbury (b. 1740), illegitimate son of Mary. Therefore, he is a part of the same family as Leslie and Nick, even though, like them, he does not carry the male-inherited Y-DNA of the Stutchburys. His problem's a bit more complicated; basically it's a double whammy.
Robin's ancestors (Participant #20 — Kit #194831):
For Robin's direct Stuchbery/bury ancestors back to Hillesden, Buckinghamshire, England, and how they are related, see: hillesden chart.
______________
Family 4: A new family identified
Participant #21 (Kit #194835): Robert (Bob) William STUCHBERY, Victoria, Australia
Test results for Bob show no matches to anyone in our project. He is the only one in the new family I have labeled "Family 4." As new participants are tested in the future, matches may be found with other Stokesbury (and variant) surnames.
But, there are other unusual factors at work here. Bob's results show one- or two-step matches at the 25-marker level with nine persons with the KIPLING surname. Best odds for a MRCA are between 8-16 generations ago. At the 37-marker level there are three-step matches to two KIPLINGs, also predicting a common ancestor 8-16 generations ago. Somewhere in the family pedigree there may have been an incident (adoption, extra-marital event, out-of-wedlock birth) that led to this close match with the KIPLING surname. It is reasonable to conclude that Bob may not carry any Stuchbury Y-DNA.
Bob's Haplogroup is consistent with his family NOT being related to any of the other families in our project. To see what I mean, go to the DNA Project Website and choose the Y-DNA Test Results Tab. Then choose "SNP" from the drop-down menu. (See illustration below which shows you how to get there.)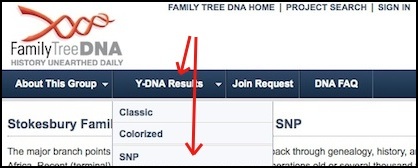 Once you get to the "SNP" page, look at Bob's result on the first line of the chart; Kit #194835, Paternal ancestor's name is Thomas Stuchbery, d 1816. Notice that Bob's haplogroup is: I-M253.
Don't be confused by the second line on that chart which also shows the I-M253 haplogroup; this is for Kit #B28484, David Hinton. David is not a direct descendant of a male Stokesbury (any spelling). Therefore his haplogroup is not of any concern to us.
Haplogroups are groupings of large numbers of people based on their long-term migration origins. Bob's Haplogroup is I-M253. Haplogroup "I" dates to 23,000 years ago, or older. The I-M253 lineage likely has its roots in northern France. Today it is found most frequently within Viking/Scandinavian populations in northwest Europe. It represents one of the first peoples in Europe. It is suggested that this group initially dispersed from the area that is now Denmark. Conflicting information on the origin of this haplogroup posits that these people might have been of Germanic origin, instead of Danish. But, regardless of the precise geographic location of prehistoric origin, the fact remains that Bob's haplogroup is very different from the R-M269 haplogroup of the rest of our participants. The haplogroup R-M269, is the dominant lineage in all of Western Europe today, as well as in Central and Northwestern Europe.
Bob's ancestors (Participant #21--Kit #194835):
I have uploaded a chart that shows Bob's direct Stuchbury ancestors back to the Portland brewers of Buckinghamshire, England. Some of this is speculative (not yet proven). Here is the link: Bob's ancestors.
______________
Looking for new participants
We continue to look for new participants, who must be direct-descendant males with the Stokesbury name (any variant spelling). In particular, we are searching for participants from these surname groups:
1. North Carolina: Stuckbury/Stuchbury, or Stotesbury/Stokesbury
2. Stretchberry
3. PA Stotesbury: (those related to Edward Townsend Stotesbury)
4. Canadian Stotesbury/bery
5. NY Stotesbury: possibly with a connection to (in this list) #3 PA and #4 Canadian
5. Any name variation still residing in England
6. Stutchbury: and/or Australian name variations
7. Any name variation still residing in Ireland
8. The name variation Stitchbury/Stichbury/berry
9. Any other variations of the name
You can help! The DNA testing continues to be invaluable in sorting out our various families around the world. Please consider a donation to help those who could not otherwise afford to be tested. Even small donations of $5 to $25 are helpful. The general fund is used ONLY for the Stokesbury Project DNA testing. To help, go to the DNA Project Website, and click on the "General Fund Donation" link. If you want to help, please do this now, so you won't forget.
Kind Regards, Linda Stokesbury Brennan (March 2017)
Stokesbury DNA Project Administrator, Natchitoches, LA, Linda@stokesbury.org
Please note: I am NOT an employee of Family Tree DNA, nor am I affiliated with them, or paid in any way by them. I started to learn about genealogical DNA testing back in 2004, and understood that it could help us sort out our families, and prove who was related to whom. I initiated our surname project with FTDNA, and set about learning everything I could so I could oversee the project and help all of us who joined to understand what our results meant. Through the years, when I have had questions I couldn't answer, the folks at FTDNA were available to help me out, so I could help you. While I surely don't know everything, I've become pretty well versed in the Y-DNA component of DNA testing. I'm always available to answer questions you might have, and to help you in any way I can.